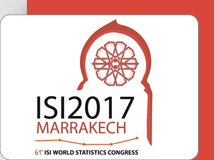 The International Statistical Institute (ISI), is an organisation that aims to promote the understanding, development and good practice of statistics worldwide. Indeed those values are reflected in the slogan "Statistical Science for a Better World".

ISI was founded in 1885 and has about 4000 elected members from the government, academia and the private sector. The Institute publishes a variety of books and journals, and holds an international conference every two years.

For his 61st edition, the World Statistics Congress (WSC) was held in Marrakech, Morocco from 16 to 21 July 2017 with a rich scientific programme focusing on the latest knowledge and innovation in Statistics. It was also an excellent opportunity to benefit from additional scientific activities such as satellite meetings and short courses.

The High Commission for Planning (HCP), the main producer of official statistics in Morocco, was pleased to host and organize ISI2017 in Marrakech. Also called the Red City, Marrakech, offers a wide variety of attractions, from historical palaces, tombs, mosques, gardens, and beautiful nature, to endless shopping, dining and entertainment places. Marrakech, the realm of well-being, art, culture and gastronomy, has been elected as the travelers' top destination in the world for the year 2015.


promotional-leaflet-isi2017.pdf
(362.57 Ko)